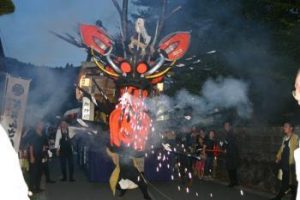 Our hometown, Nankan-machi Tamana-gun, has "Nankan summer festival" as known as "Gion-san" in every summer.
This festival is the very heroic Shinto ritual at the middle of summer and there is a 3 meter big float with a scary snake face. After kids from Nankann-machi carry the float and walk during daytime, young guys there carry it and walk through the main street at night.
After the sun goes down, the climax of the festival at night will come with fireworks from the big snake's mouth.
reference url : http://www.town.nankan.lg.jp/event/pub/detail.asp?c_id=42&id=2&disp=1