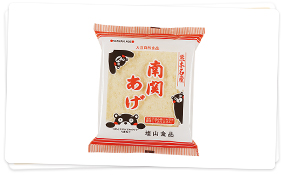 The most popular local food in Nankan is "Nankan Age".
You may not know what Age is. Age is fried sliced Tofu which is popular for everybody in Japan from a long time ago.
Nankan Age is very soft, stays good for three months, and soaks up seasonings well. My recommendation is Nankan Age with miso soup. It matches together and tastes perfect. If you like miso soup, I'm sure you will love it.
reference url : http://www.ikiikimura.net/ikiiki/souvenir.html