500 years of history, the blacksmith center Kumamoto

Knife making in Kumamoto is said to have its roots when, more than 500 years ago, a sword smith professional named Yukiyasu Naminohira moved to Kumamoto in search for high quality water for sword making. After the move of Naminohira, many blacksmiths began moving to Kumamoto, and even now a place called "Blacksmith Town" still exists. The blades of Kumamoto are said to have been famous for its sharpness, which could smoothly cut a piece of paper being held vertically. This sharpness was achieved by handmade blades. Today there are very few blacksmiths left who are able to perform Kumamoto's traditional blacksmith skills, and there is a desperate need for successors of in the trade.
A cutting edge factory which has a waiting list for production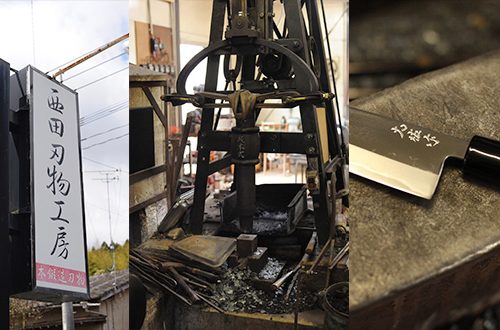 Many blacksmiths who have had Kumamoto's traditional hand-made blacksmith skills passed down through generations are aging, along with a decrease of younger successors. While this poses as a threat, someone who is gaining attention in Kumamoto is a young knife blacksmith, Mr. Daiyu Nishida. While he inherited the 500 years old tradition by training for around a decade at a traditional Kumamoto studio. His Japanese and western knives, made with a modern twist, has not only domestic, but international fans as well.
While Nishida Blade Studio consists of only a select few artisans, and some types of blades has a waiting list longer than half a year, they have agreed to manufacture a limited number of products for this promotion with foreign customers in mind.